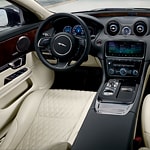 In many ways, stating that Jaguar is an iconic carmaker is an understatement. Over the course of several generations, Jaguar has been crafting some of the most enviable luxury sedans on the road. The Jaguar XJ is another fine example of the company's commitment to excellence, as is exemplified in the sedan's exterior features.
The Jaguar XJ exterior features include a stunning floating roofline. The rear windshield wraps around the sedan, adding to the stylish sleek look of the Jaguar XJ. In addition, the interior features on the Jaguar XJ come complete with signature Jaguar "J" running lamps and powerful elliptical tailpipes.
You can get a close look at the Jaguar XJ at Jaguar Buffalo located in Williamsville, NY. The experienced, dedicated team of professionals at the dealership can provide you all the information you desire about the Jaguar XJ and set you behind the wheel for a test drive.