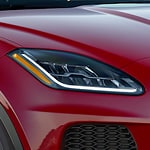 The Jaguar E-Pace is a vehicle like no other. Just take a look at some of its exterior features to see why. You can look at the panoramic glass roof that offers you amazing views of the sky from inside the vehicle to the LED headlights that keep you safe and sound when out on the road in the dark or fog.
There are a variety of wheel size options available for this vehicle. Among the most popular are the 21" wheels. The driver is completely in charge of what kind of wheel they would like to have put on though. They may choose a more traditional or a more modern style depending entirely on their taste preferences.
People love the Jaguar machine for its style and elegance. There is no doubt that it brings all of that and so much more to your life every time you take it for a spin.